What Do Digital & Tech Brands Know about Out-of-Home Media?
Digital-first brands, including streaming services, are breaking away from the competitive herd and through to their customers in effective and efficient ways using the most advanced Out-of-Home (OOH) media solutions. Look no further than Spotify's year-ending OOH campaign, "Wrapped," designed to inspire listeners to reflect on their decade of favorite songs.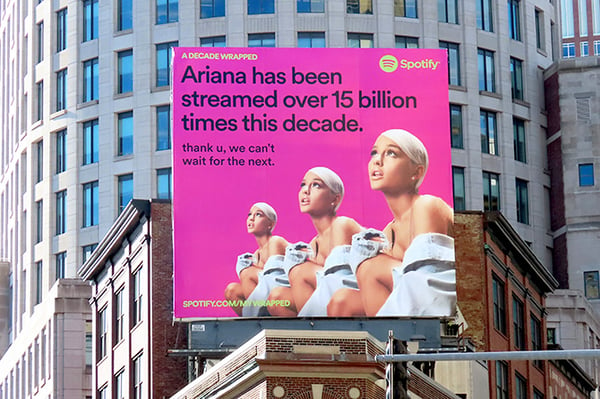 Herein lies the question, "What do digital and tech brands know about OOH media that others don't?"
Clear Channel Outdoor (CCO) has developed innovative ways to apply mobile location data to OOH media to help brands plan and measure the effectiveness of OOH advertising exposure. Clear Channel Outdoor's RADAR suite of solutions is the industry's first audience-behavioral targeting, measurement and optimization platform, leveraging these insights to help brands get the most from their OOH campaign. For advertisers large and small, national and local, RADAR is helping advertisers understand what happens after audiences view their billboard ads, providing insights into how OOH advertising impacts a broad range of behaviors, in ways that allow advertisers to optimize the performance of OOH media.
In one recent example of innovative application of mobile location data, a digital first-brand leveraged CCO RADAR to measure OOH's ability to drive app downloads.
Digital Out-of-Home (DOOH) Drives Downloads for Streaming Service
A top digital streaming service was looking to drive brand awareness and app downloads amongst their target audience (adults 35-64) traveling during summer weekends (July 2-September 3) throughout Boston, New York, Chicago, and Philadelphia.
As part of the campaign planning process, CCO's RADARView pinpointed the digital billboards in the target markets that over-indexed for vacation/beach goers, an audience segment that closely aligned with the advertiser's customer base. This allowed the brand to leverage the flexibility of DOOH to reach consumers with contextually relevant messaging during peak weekend drive times, along the paths most frequently traveled by the target audience. Using RADARProof, CCO's attribution solution, the brand measured the campaign's influence on downloads of the streaming service's app among OOH-exposed audiences.
The Results:
For the first time, this advertiser was able to understand how OOH performs when compared to other digital & performance marketing channels, showing that the OOH campaign generated a 24% app install conversion rate, on par with mobile media benchmarks.
50% of app downloads measured came from devices solely exposed to OOH, meaning that OOH on its own was able to drive measurable digital behavior.
Earthlink Reintroduces its Brand with a Digital Roadblock
After a long period of no advertising activity, digital-first pioneer Earthlink recently reintroduced their brand to their home city of Atlanta by activating a takeover of all of CCO's digital billboards in the Atlanta Metro market.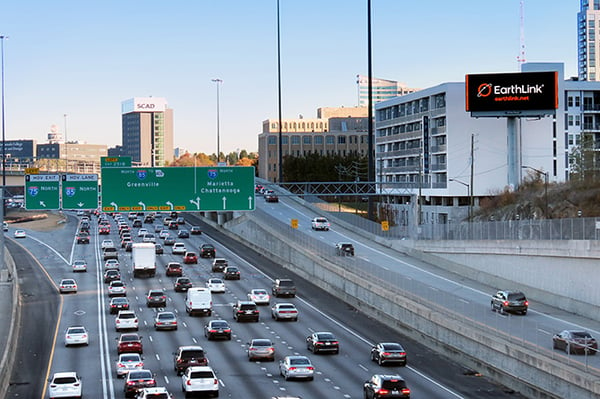 The campaign's objective was to retell Earthlink's story and highlight their secure, fast, and affordable internet options to consumers during morning commute time.
CCO worked with Earthlink to activate a 5-minute DOOH roadblock across the Atlanta market during peak morning rush hour. Through sequential ad messaging, the DOOH campaign told the Earthlink story via a series of 10-second ads that could each be understood independently. All told, their collection of thirty 10-second ads reintroduced their brand, highlighted the benefits of their service and reconnected with their customers.
A total of 168 digital bulletins were activated across the Atlanta market, including coverage on all major interstates during morning drive. The campaign was highlighted in local publications and over Earthlink's social media channels. Earthlink team members even watched the digital OOH roadblock live from their new HQ during the office's ribbon cutting!
These are just two examples of how digital-first brands are using DOOH in unique ways to engage with their customers and communities. The power of OOH is helping brands breakthrough in measurable ways and there's more innovation and evolution to come in 2020.
Click below to access the case studies or begin planning your next campaign today.
Topics: Technology, Digital Billboards, Case Studies