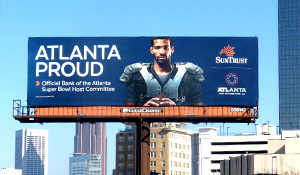 The Big Game is just weeks away and TV ad slots for the broadcast are sold out. According to the Wall Street Journal, advertisers paid up to $5.6 million for 30 seconds of airtime, which exceeds the $5.3 million spent per spot last year.
Read More

The average adult decides what they're going to eat an hour before. For others in go-go-go mode the choice isn't made until the HANGRY sets in, and they can't tell if the growling they hear is an imminent thunderstorm or their stomachs. Thankfully, out-of-home reminders appear and provide fast suggestions for nourishment in a sea of commuter traffic and amidst daily to-do lists that seem to be forever growing.
Read More
Topics: Food & Beverages, Digital Billboards, Seasonal

After surviving an unusually long winter (hello, January 94th meme), we know summer is coming and we're planning for it. All that stowed energy will heat up in June, July and August, with 45% of Americans planning to take a summer vacation and an estimated $101B in spending to follow.
Read More
Topics: Travel & Tourism, Digital Billboards, Seasonal