Black History Month: Celebrating Health and Wellness with Olympian Lia Neal
In honor of Black History Month and this year's theme of "Health and Wellness," Clear Channel Outdoor (CCO) recently had former Olympic swimmer Lia Neal join our company-sponsored Employee Resource Group (ERG), FACES for Color, as a guest speaker. Lia is a two-time Olympic medalist and the first African American woman to swim in an Olympic final.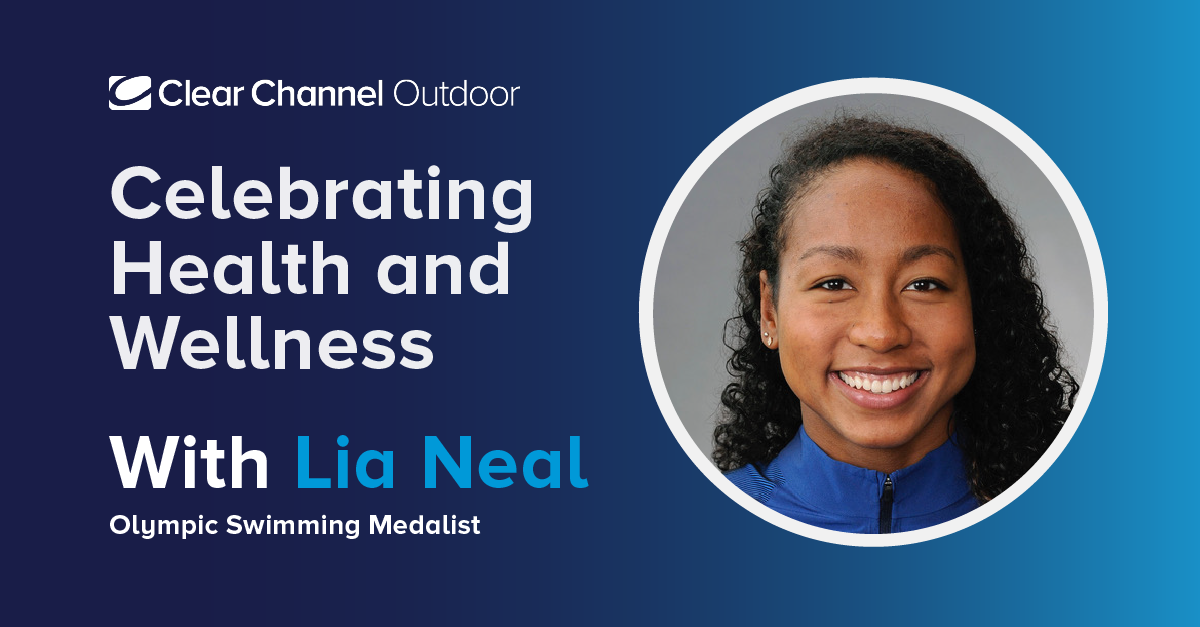 During the eye-opening and revealing session with CCO employees, Lia discussed her experiences and challenges that came with being a competitive athlete, as well as her personal journey with health and wellness. Here, we're highlighting some inspiring takeaways from Lia's story.
But first, what are ERGs and what's FACES for Color?
ERGs are employee-led groups within a company typically formed around specific identities or experiences of a community and designed to foster a safe, inclusive workplace. At CCO, we call these FACES, which stands for "Forging Allyship, Cultural Equity and Support." Open to all CCO employees, our FACES for Color ERG supports our BIPOC (Black, Indigenous and People of Color) community and their allies and exists as a resource to advance the group's common interests like health and wellness.
So, as Lia talked about her own share of trials, tribulations and triumphs as a competitive swimmer, her story resonated with our team.
Lia explained after her Olympic and collegiate swimming career, she reflected on what was next for her. She went back and thought about what she originally loved about swimming – that included building friendships, traveling and the actual art of swimming technique. This led Lia to organize a swim training world tour in 2018, which she claimed was "the highlight of my career."
In 2020, she started
Swimmers for Change
to give back to the community in response to our nation's ongoing civil unrest. Going forth, she looks to establish it as a nonprofit to open doors for minority students by empowering them through scholarships to create opportunities and increase accessibility, diversity and representation through the sport of swimming.
Before wrapping her open discussion with CCO team members, Lia shared five key things she wanted our employees to take away from her story:
"Follow what you are passionate about and what brings you joy."

"Surround yourself with good people."

"Knowing when to persevere and knowing when to stop are equally important."

"Don't compare your weaknesses to other people's strengths. Instead, reflect on and lean into your own strengths, as they're what got you to where you are today."

"Be more present. Reflect on your accomplishments and celebrate them."
To further amplify CCO's celebration of Black History Month, we've been tapping into the power of our nationwide digital out-of-home platform to highlight individuals and institutions at the forefront of advancing health and wellness within, and beyond, the Black community. Check out the campaign here.
Topics: Diversity & Inclusion