An OBIEs Recap: What Makes a Campaign Impactful and Award-winning?
Never have we seen a year like 2020. During a time of fear and uncertainty, brands and advertisers rose to the challenge to inform, inspire and connect with communities and consumers against the backdrop of a global health pandemic and civil unrest.
In the past year, our artists at Clear Channel Outdoor (CCO) harnessed the out-of-home (OOH) advertising platform to help brands connect with audiences through sincerity and creativity. And my feeling is that it's one thing to tell a story to an audience, but it is an entirely different skill to leverage the media in a way that invites the audience to become part of the story.
And nowhere was that more evident than in this year's OBIE Awards. Named after the literal pillars of modern advertising, the OBIE Awards annually recognizes creative excellence in the OOH industry. In late May, this year's virtual ceremony celebrated high-caliber campaigns that pushed the OOH advertising envelope.
This year's OBIEs theme was "The Heartbeat of Our Communities." In many ways, OOH became the pulse of the streets, as it taught us how to stay safe, informed us when businesses reopened, and broadcasted brave stories of hope through heartache. The theme, finalists and selection of winners truly reflected the state of our world.
With over a dozen finalists, CCO was thrilled to take home five awards – one of them being our first-ever Gold OBIE! We're incredibly proud to have been a part of these impactful campaigns by our partners and we hope they inspire you as much as they inspired us. Here's what caught my attention about these award-winning entries. And who knows, you might discover your next breakthrough idea from them…
Gold OBIE Winner:
The Gospel of George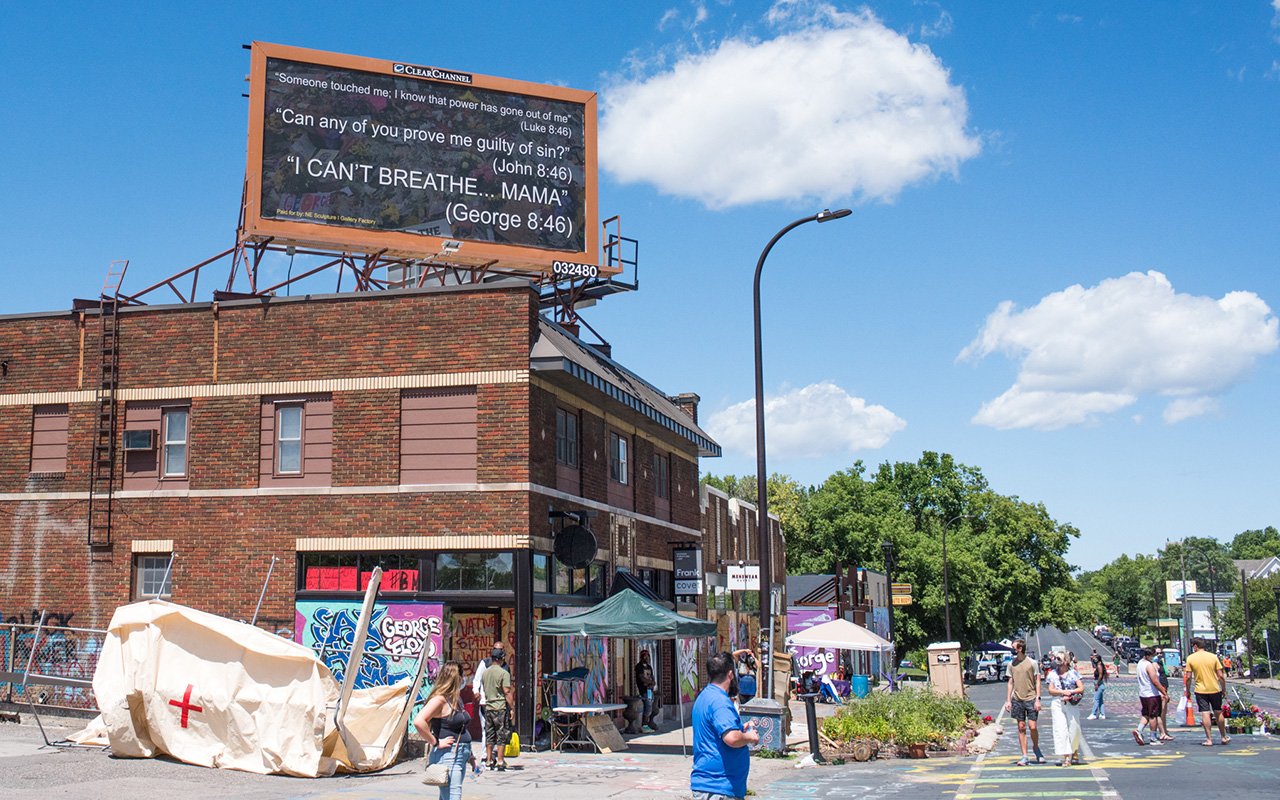 After the horrific news of George Floyd's murder swept the country, Northeast Sculpture Co. invited sculpture artist William Ransom to participate in its Social Justice Billboard Project. As one of the project's three billboards, The Gospel of George sits right above Floyd's vigil site in Minneapolis, Minn.
While the project was intended to elevate BIPOC artists like Ransom, it also called attention to one of the most pressing social justice issues of our present, reflecting the humanity of Floyd, the pain felt by his death and the civic duty to push for a more just world.
Silver OBIE Winners:
Highly Calculated Delivery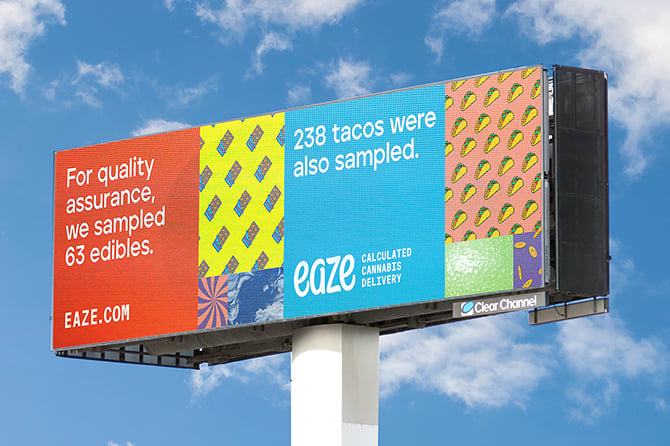 Employing tongue-in-cheek puns and light-hearted humor, Eaze launched billboards across Los Angeles and San Francisco that tapped into its traditional audience and pushed branding boundaries. After shifting from being a provider for cannabis brands to a company with its own line of retail, Eaze wanted a brand refresh reflecting the evolution of an increasingly normalized cannabis industry.
Five years since its last campaign, Eaze's Highly Calculated Delivery was wonderfully self-aware and refreshing.
The End of 2020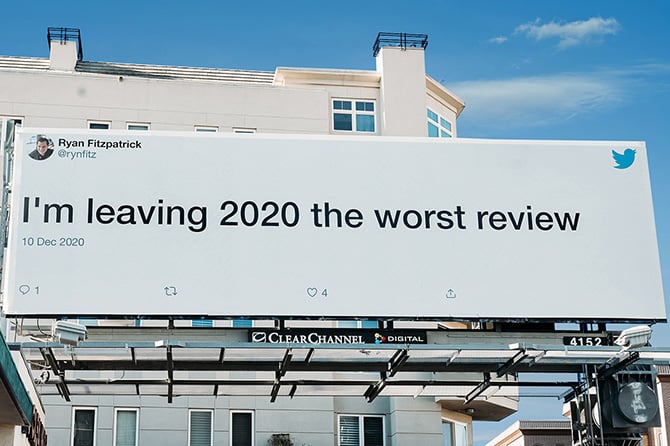 With more people at home and online than ever, Twitter became an integral platform to display, discuss and share moments of fear, humor, frustration and anger in 2020. After a rather unconventional year, Twitter desired to capture those feelings in a fun, honest and unconventional way via CCO billboards across Los Angeles, New York City, Philadelphia, San Francisco and Oakland.
After the initial comedic hate-tweet campaign went live, Twitter invited more users to roast the year 2020. Within hours of being tweeted, the best replies were placed on NYC billboards in real time, including those of NYT best-selling author Angie Thomas and famous singer Dionne Warwick.
Bronze OBIE Winners:
McDonalds Voice Screens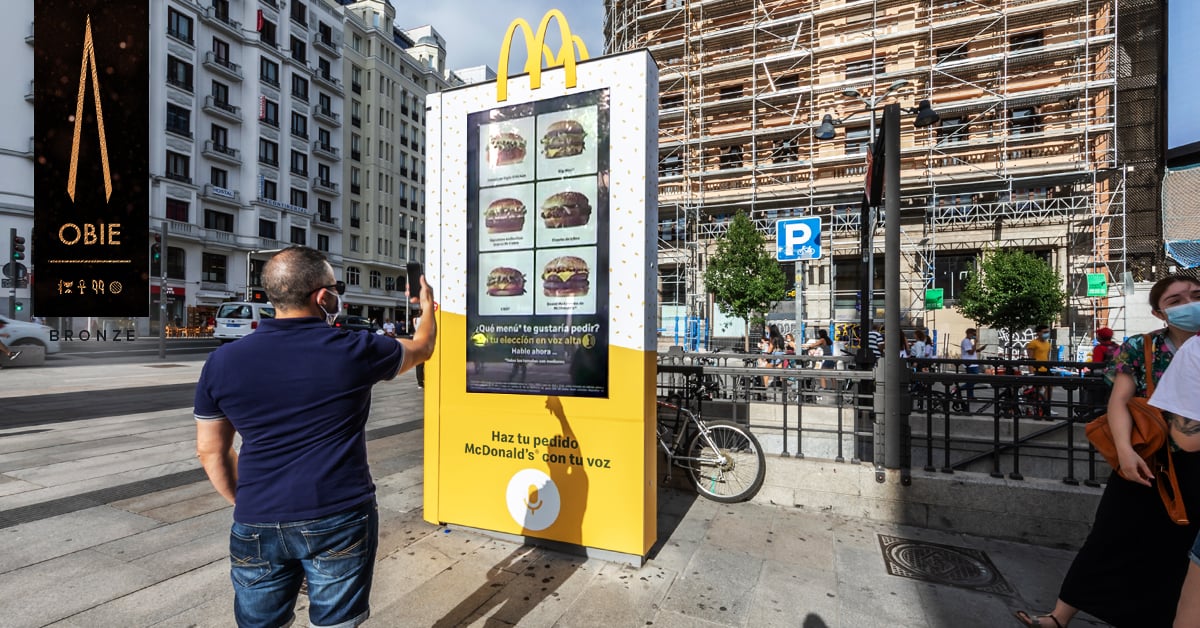 Converting digital billboards into interactive ordering kiosks, McDonalds worked with TBWA and Clear Channel Spain to drive awareness of its McDelivery service. These innovative, voice-activated screens allowed for accessible food delivery options during the height of the pandemic, providing customers a safe alternative to ordering in-person and creating an overall thoughtful and impactful consumer experience.
These screens proved popular as burger tickets eventually ran out, leaving McDonalds' lovers wanting more!
Discovering What Matters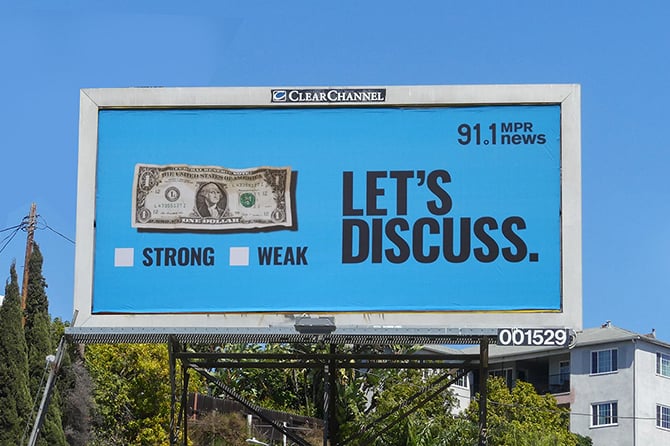 While it covered news and issues directly impacting Minnesotans, Minnesota Public Radio (MPR) News wanted to frame itself as an impartial facilitator of important and much-needed conversations in today's increasingly polarized world. Working with its agency, The New Normal, MPR News integrated simple, bold lettering and effective imagery into this timely and relevant campaign to capture attention, pique interest and encourage real dialogue about real news.
A huge round of applause to all the 2021 OBIE winners and finalists!
Topics: OOH Capabilities, Innovation, "Creative Best Practices"