Make It Experiential: Airport Activations Boost Brand Awareness Among Travelers
To boost brand awareness, provide consumers with an experience and become part of their travel journey. With 88 percent of air travelers spending 30 plus minutes walking the concourse, this is an opportune time for brands to connect with an on-site campaign.
It's exactly what leading brands 3M, Barclays and Wrigley's Chewing Gum did when they teamed up with Clear Channel Airports to execute specially crafted experiential programs. All unique in their own way, these promotions offered travelers a one-on-one, hands-on experience from enjoying free chewing gum to participating in a product demonstration to immersing themselves in a "Win" tunnel for a chance to win prizes. Here's how these brands did it:
WORK IN PRIVATE, IN PUBLIC
In Minneapolis-St. Paul International Airport, 3M came up with a creative campaign to showcase their privacy filters for laptops, tablets and smartphones when fans were flying in for the final games of a basketball championship series. The contextual setting was ideal, as many have been subject to a mutual traveler glancing at their screen while waiting in a terminal or seated in-flight...viewing something that may be confidential, or something they just do not want anyone else to see.
Brand ambassadors welcomed travelers by offering a product demonstration, giveaways and a 20 percent off discounts with the theme #EyesOff.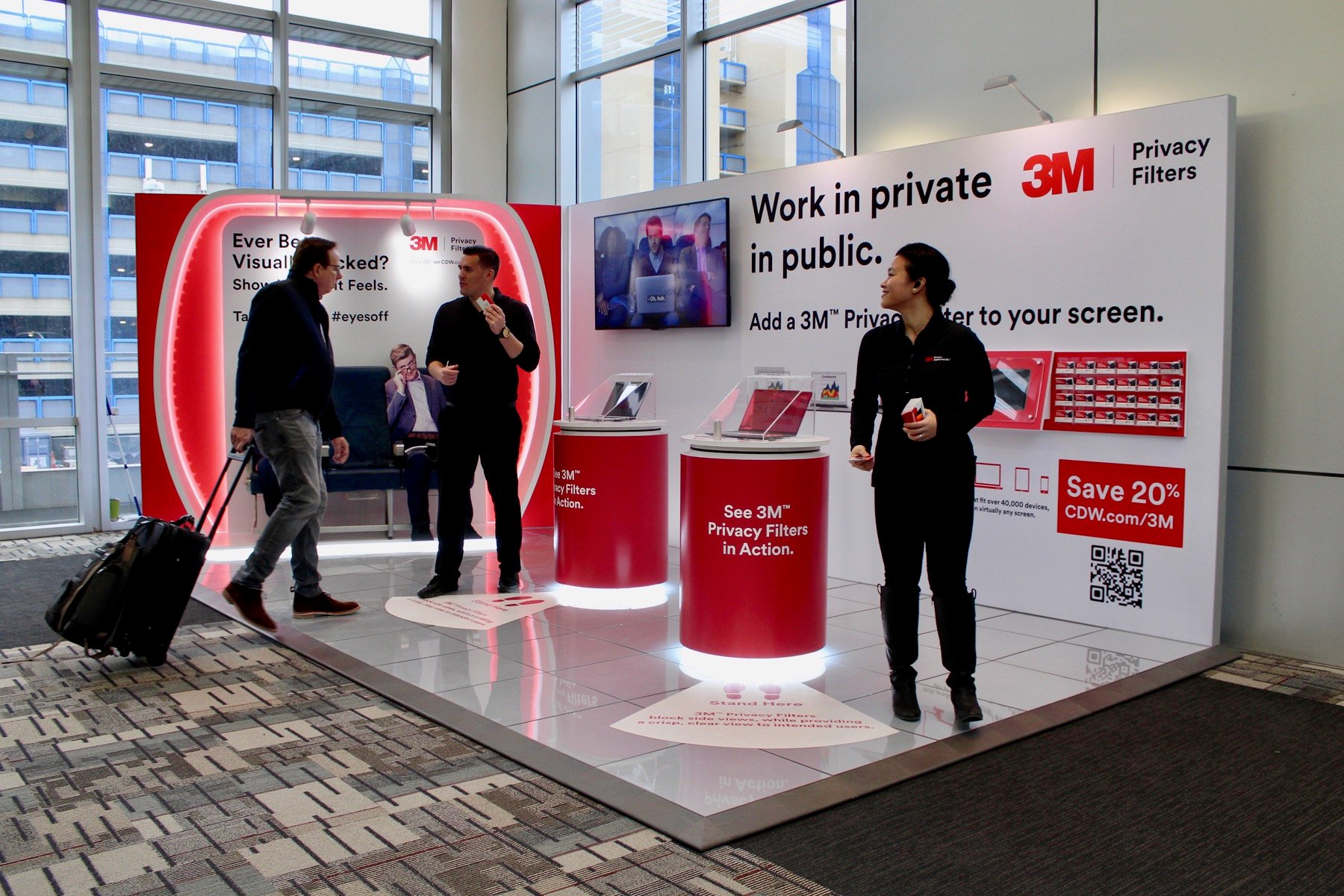 According to Nielsen, one in three airport consumers surveyed say they would post about their experience on social media. 3M took full advantage of this by offering a selfie opportunity in an old Boeing airplane seat, with virtual nosy travel-mates:
Does this look familiar? Tell us your best #EyesOff story, then head on over to https://t.co/mXKGjkEAoT to save 20% on select 3M #PrivacyFilters. #worktrip #visualprivacy pic.twitter.com/dl4noa5ISx

— 3M Screens (@3MScreens) May 22, 2019
FREE GUM WHILE TRAVELING? SCORE!

Wrigley's Chewing Gum and their agency, The Marketing Arm, developed a multi-market sampling program to promote and offer samples of Wrigley's new Extra Refreshers Soft Chew Gum to consumers. With a full display overflowing with easy-to-stow samples, brand ambassadors had no trouble attracting airport travelers.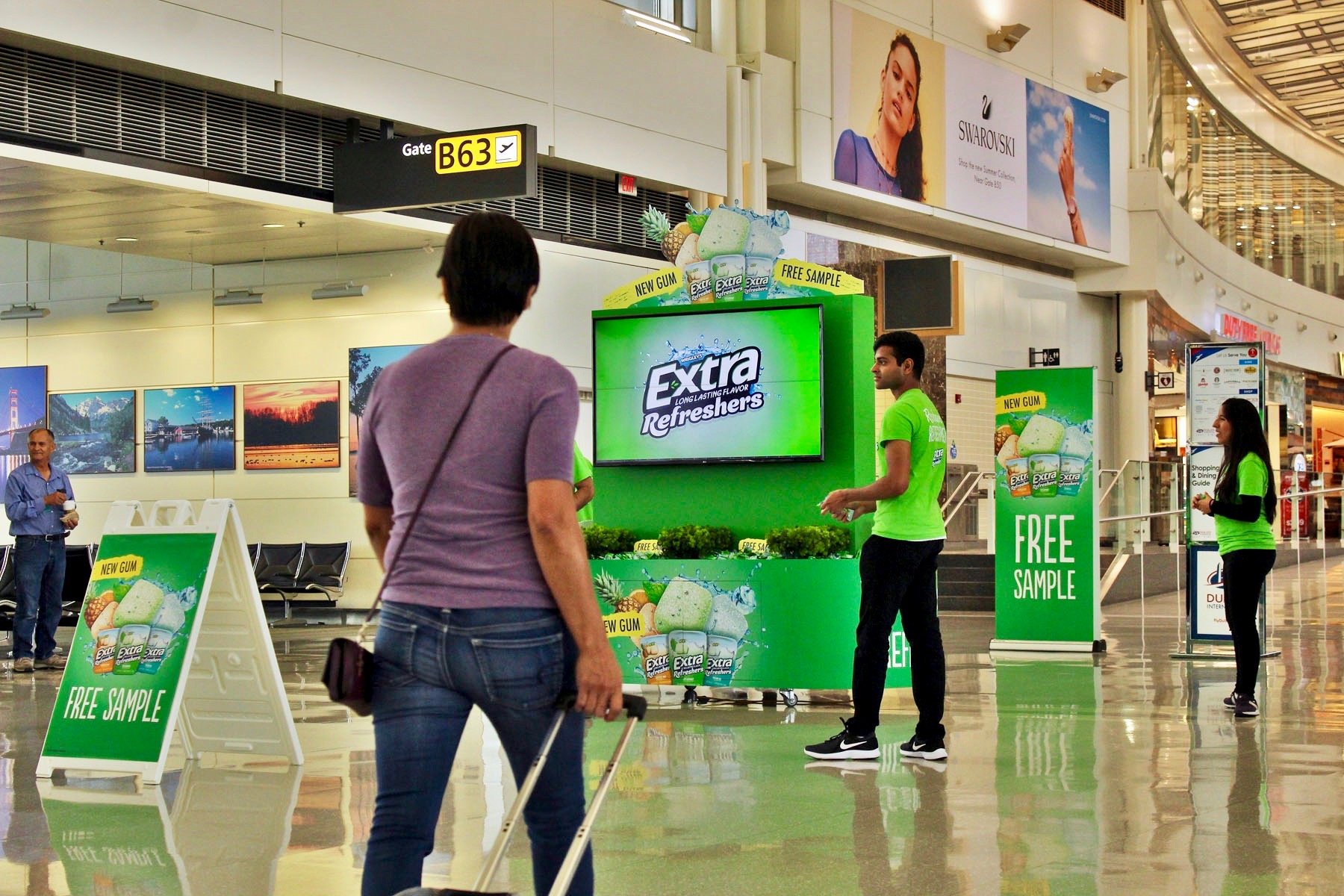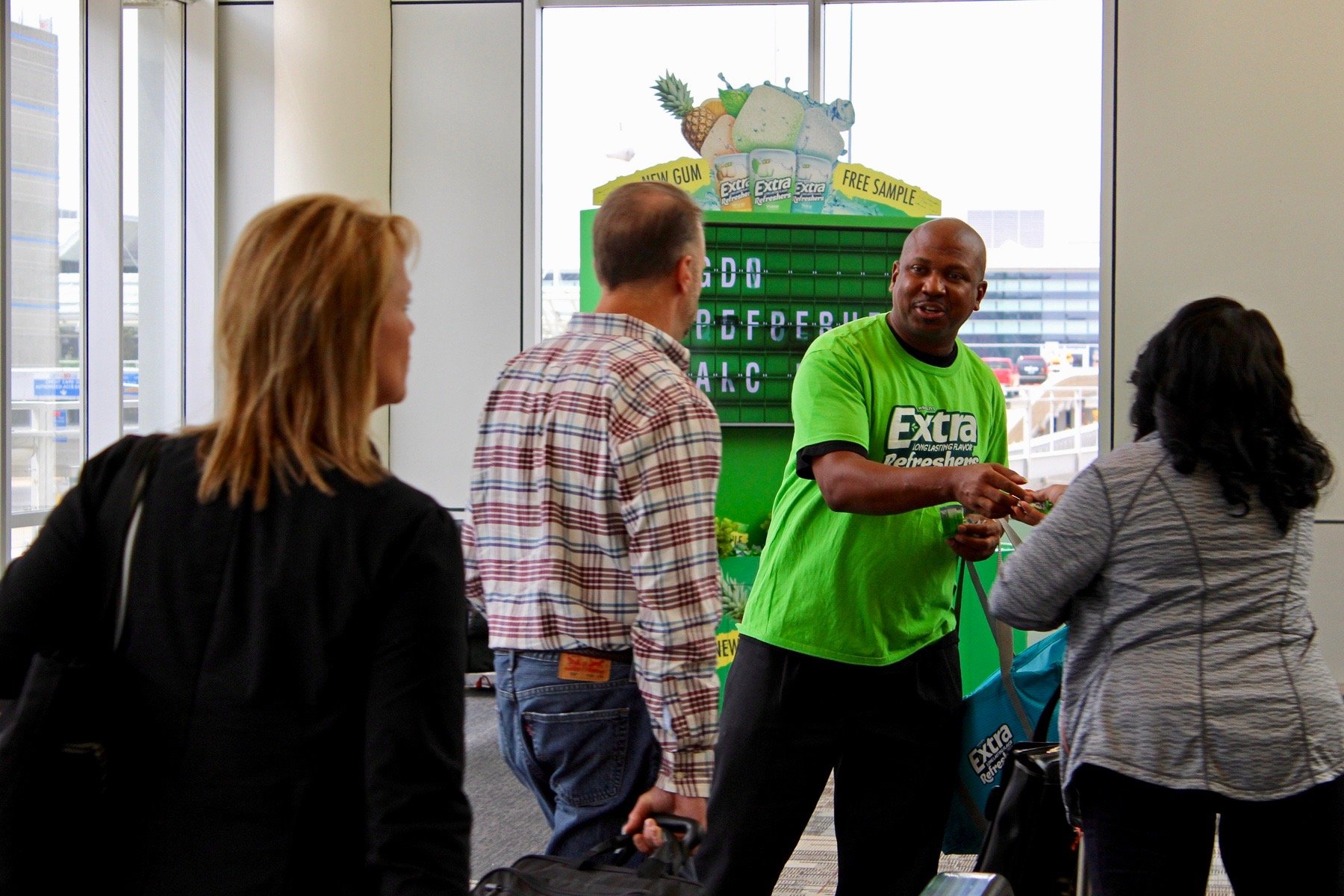 This campaign began in June and will run through August in six airports (DCA, IAD, ATL, ORD, MSP, and PHL), and two Chicago transit centers (Union and Ogilvy Station), which were all selected based on their ability to reach the largest number of passengers.
WIN LIKE AN AVIATOR—IN A WIND TUNNEL!

At Chicago O'Hare International Airport travelers ventured into a 6.8 foot tall wind tunnel, smartly renamed, "The Aviator Win Tunnel." Filled with red and gold strips of paper with the mission to grab as many strips as they could within 10 seconds, the line to participate was long!
Barclays Bank, American Airlines and Mastercard's promotion raised awareness for their credit card by blowing the competition away with a wind tunnel. This was the stuff of game show fantasy, and a great way for passengers to get that windblown look before their flight, coupled with the opportunity to take home prizes. Win, win.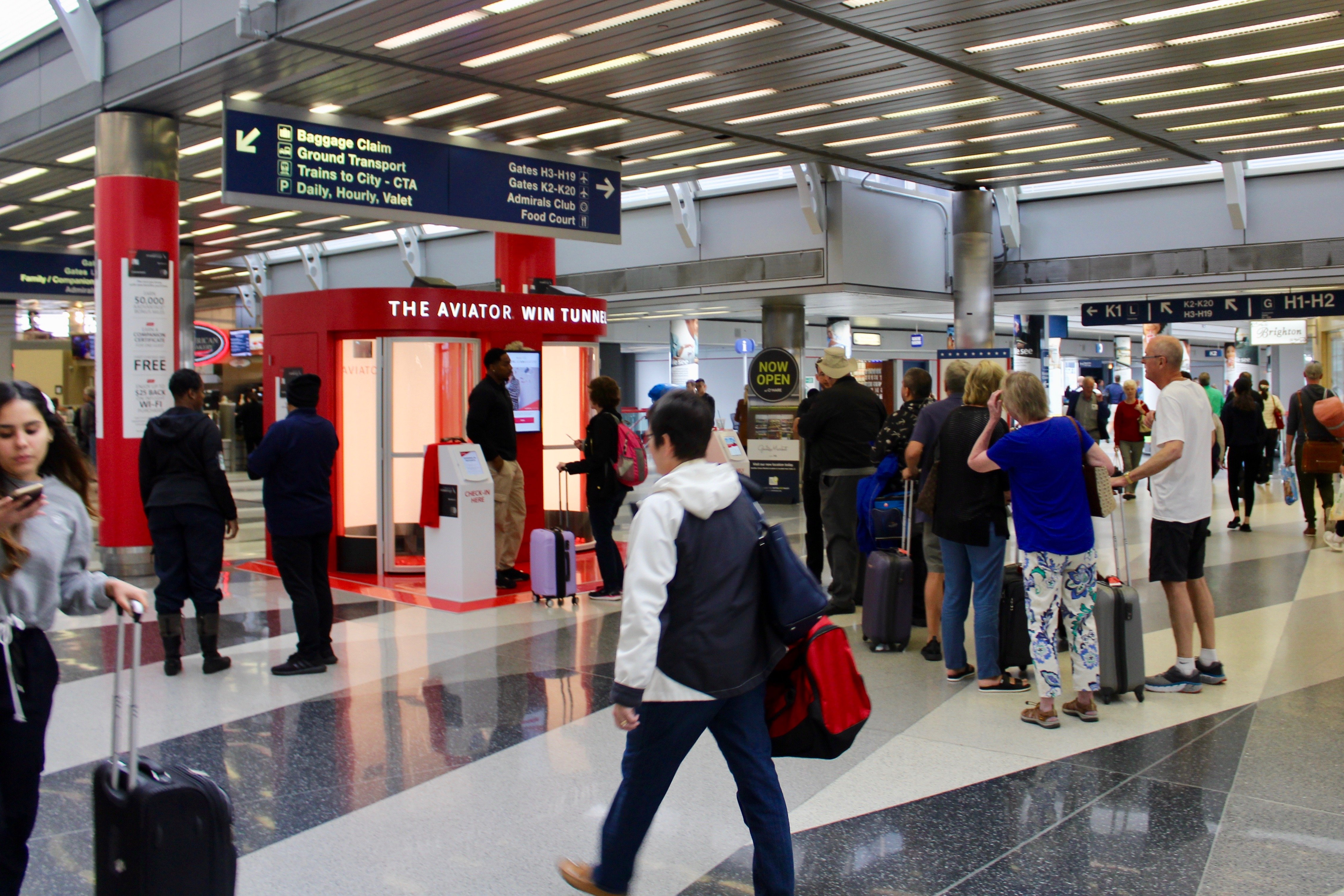 The more slips captured, the more prizes—from luggage tags all the way to $500 gift cards! This #WinLikeAnAviator campaign ran for only three weeks at Chicago O'Hare and received over 70,000 impressions and had over 5,000 winners!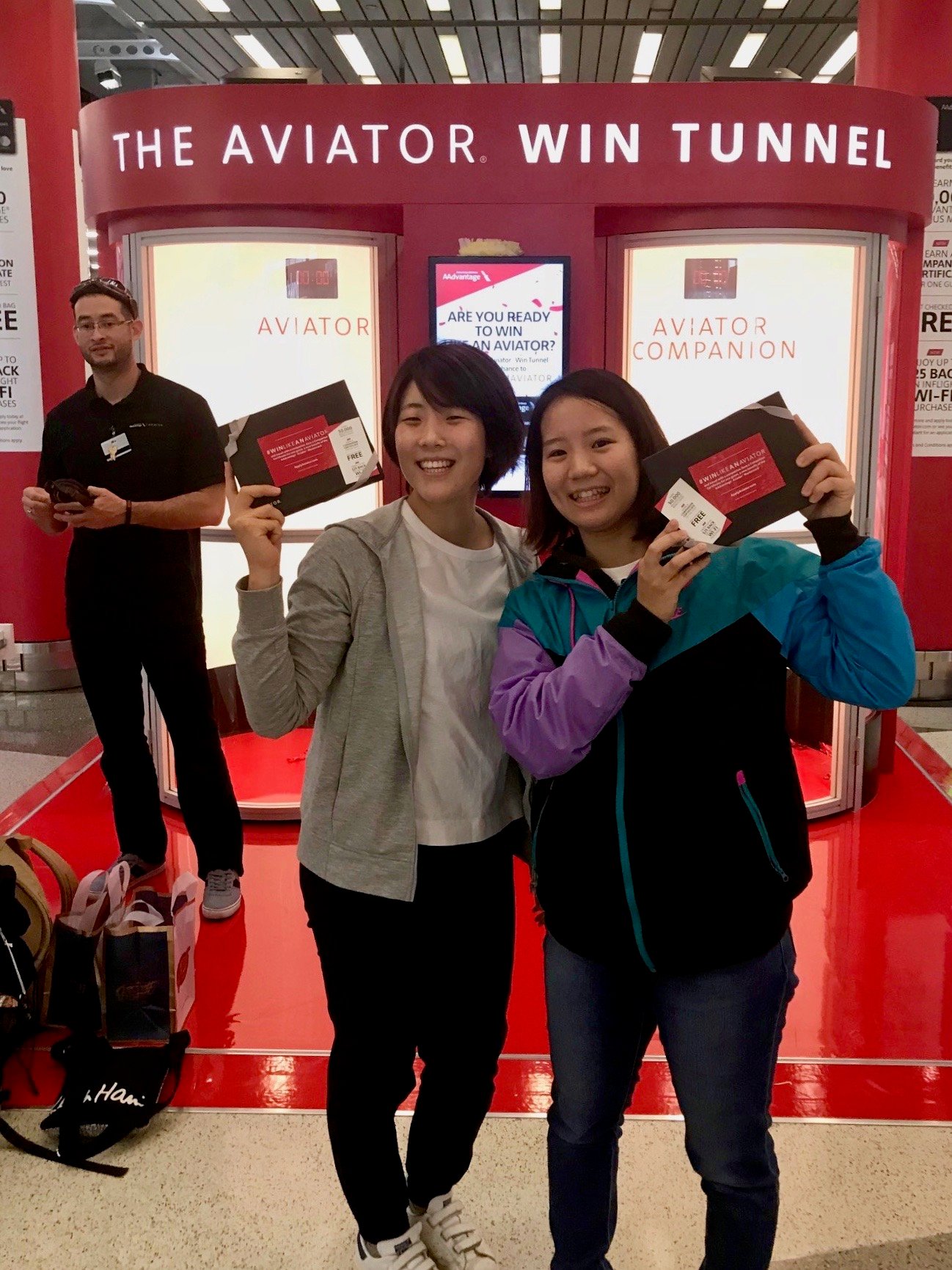 Visit Clear Channel Airports for more examples, and boost brand awareness among the 98% of travelers that feel more inclined to make a purchase after participating in an activation.
Clear Channel Airports is the premiere innovator of contemporary display concepts with digital, experiential, print and mobile advertising formats. We operate more than 275 airport programs across the globe and have a presence in 29 of the top 50 U.S. markets with major airports delivering over one billion annual passengers.
We'll create a custom program for you:
Sources: 2017 Nielsen Airport Insights Study; Event Track Experiential Marketing Report, Event Marketing Institute, Mosaic Research
Topics: Innovation, Airports, Experiential