Innovations and Industry Firsts: Clear Channel Airports Proves the Sky's the Limit
Savvy advertisers know the way to captivate millions of travelers daily is through immersive and memorable brand experiences. And airport advertising is delivering in a big way. Consider this.
Eighty-two percent of air travelers arrive one hour before boarding. Ninety-one percent of frequent travelers notice airport advertising. And 75% took action by shopping at brick and mortar locations after seeing the airport ads*.
Moreover, air travel remains on the rise. The Bureau of Transportation Statistics estimates that U.S. airlines carried more passengers in 2019 than in any previous year. And that annual number has reached a new high for five consecutive years.
Headed into 2020, there was no shortage of powerful brand activations in airports which leveraged those incomparable numbers. Let's take a closer look.
Finding Your Ride Share Just Got Easier
At Seattle-Tacoma International Airport (SEA-TAC), arriving passengers can now easily find their Uber ride share by following directional signage that guides them to their Uber pickup spot. Clear Channel Airports (CCA) partnered with Uber and SEA-TAC rolled out a first of its kind campaign in the U.S. with multi-directional use of signage, alleviating the stress travelers go through when making their way through the twists, turns and terminals of the airport.

With 65%* of rideshare users only sometimes knowing where to find rideshare services when they land at the airport, this campaign makes the traveler's journey easier, faster and stress-free.
This first of its kind ad campaign focuses on making life easier for the customer. SEA-TAC has already received positive passenger feedback, proving the effectiveness of this innovative wayfinding strategy.
Programmatic Takes Airports by Storm
Also, in 2019, Nature's Way became the first brand ever to activate a programmatic, weather-triggered digital OOH campaign across roadside billboards, Times Square and airports nationwide.
By leveraging Clear Channel Outdoor's programmatic solutions, Nature's Way was able to reach more than 18 million consumers during key times at targeted locations. The campaign ran in high-traffic airports to target consumers during crucial moments when they might be seeking immune support due to weather-driven conditions.

Uber Made Holiday Travel a Bit More Comfortable for O'Hare Passengers
In late December, CCA and Uber teamed up again for another airport first. Together, they launched an exclusive experiential advertising activation at Chicago O'Hare (ORD) airport with the Uber Comfort Lounge. This first ever ride-share sponsored pop-up lounge had been developed to create a buzz around Uber's new Comfort offering to riders. Uber's Comfort Lounge offered all travelers passing through Terminal 2 in ORD, the opportunity to enjoy a little extra comfort, by giving them free access to the lounge, so they can relax, unwind and prepare for their journey before or after their trip. Upon entry, guests received a promo card that invited them to a discounted Uber Comfort ride when they reach their destination.

You never know who you might 'reach' at the airport!
Best-selling author and corporate consultant, Roger E. Flax, PhD was greeted at Chicago O'Hare Airport (ORD) by a display of recommended book downloads that included his new title, No Stopping You! Hachette Group Publishing, a first-time advertiser with CCA, engaged travelers on the go with sizable creative content focusing on some of their season's best nonfiction audiobooks. The illuminated spectaculars found throughout ORD featured several holiday reads meant to captivate flyers during rare moments of downtime. Hachette Group Publishing appealed to a target audience of *44% of frequent flyers who have bought books online in the past year, and *54% who would download an app while waiting for their flight!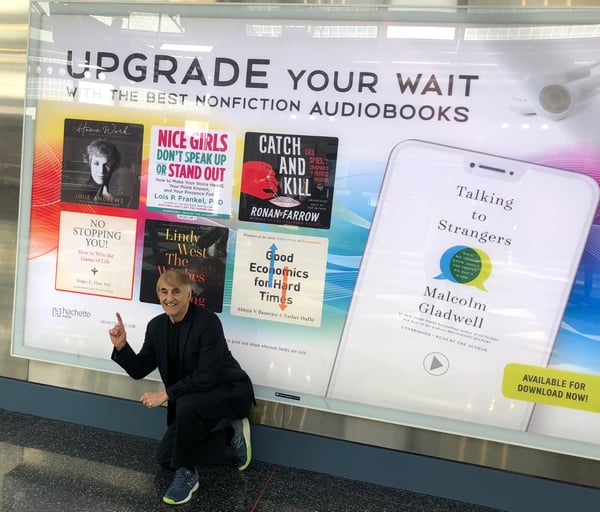 It's an understatement to say that 2019 was a pivotal year for brands leveraging airport advertising. We're looking forward to 2020 being another year of industry firsts as we bring airport media attribution and audience retargeting to the airport space for our valued brand partners!
*2019 Nielsen Airport Insights Study
Topics: Airports, Programmatic