Reaching a Captive Audience: Holiday Travelers in our Nation's Airports
Whether they're home-bound, warm-weather bound or off to a destination less charted, travelers are in countdown mode to take flight this holiday season. AAA projects 54.3 million Americans will journey 50 miles or more away from home this Thanksgiving, a 4.8 percent increase over last year.
"Consumers have a lot to be thankful for this holiday season: higher wages, more disposable income and rising levels of household wealth," said Bill Sutherland, AAA Travel senior vice president. "This is translating into more travelers kicking off the holiday season with a Thanksgiving getaway, building on a positive year for the travel industry."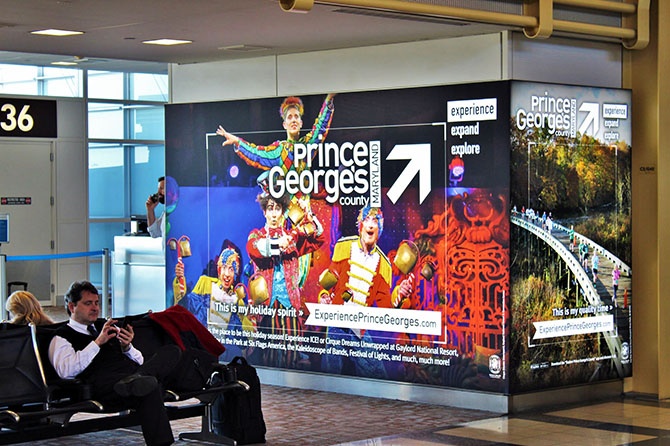 As both prepped and harried travelers descend upon U.S. airports this holiday season, they'll be far from alone. Feast your eyes on these jet-setting numbers*:
Airline passenger traffic is up 7.3% year over year.
The largest growth in holiday travel is by air, at 5.4 percent, with 4.27 million travelers.

In 2017, 28.5 million passengers traveled on U.S. airlines during the 12-day Thanksgiving air-travel period, and 51 million passengers flew on U.S. airlines during the last three weeks of December.
On average, travelers spend about two hours at the airport prior to departure. This dwell time is key to capturing the attention of more than 40+ million passengers who pass through Clear Channel Outdoor's most trafficked airports in December.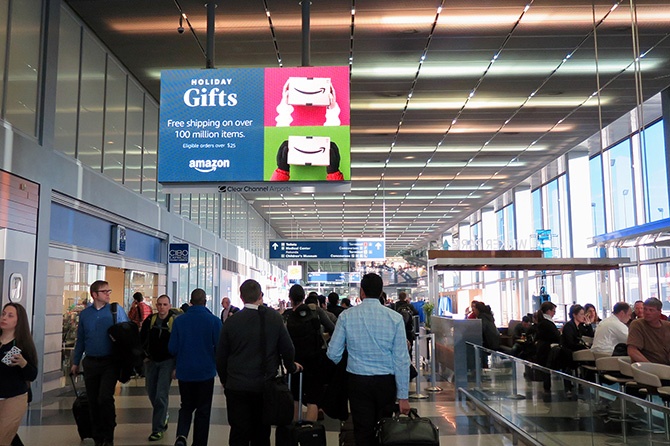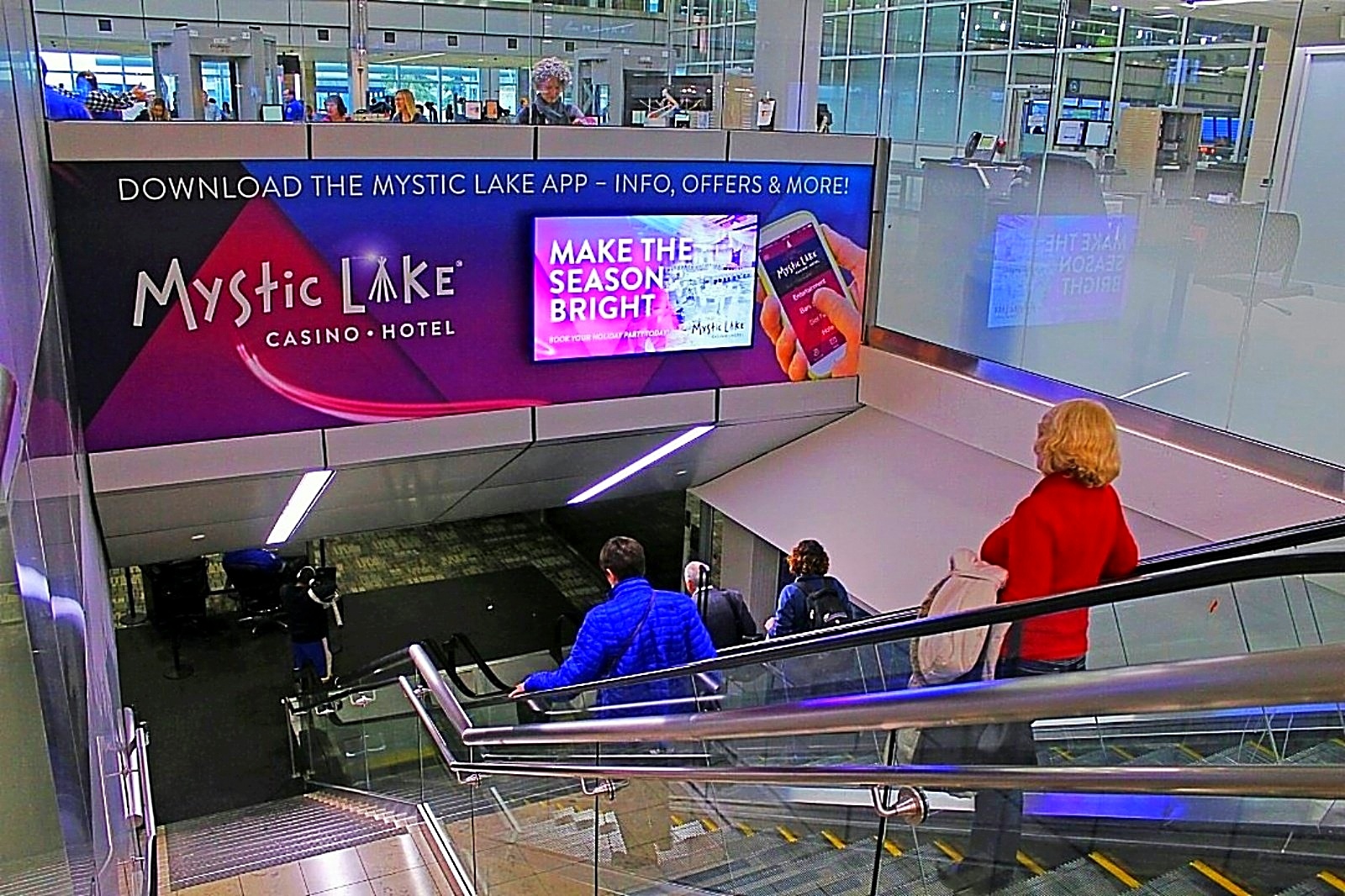 Brands can make use of ad displays that come in every shape and size imaginable, suited to each airport's unique landscape. Some go BIG and bold with banners and wraps, designed to dominate the space and offer inescapable visibility, like the shuttle doors at Denver International Airport—how else are you going to get to your gate?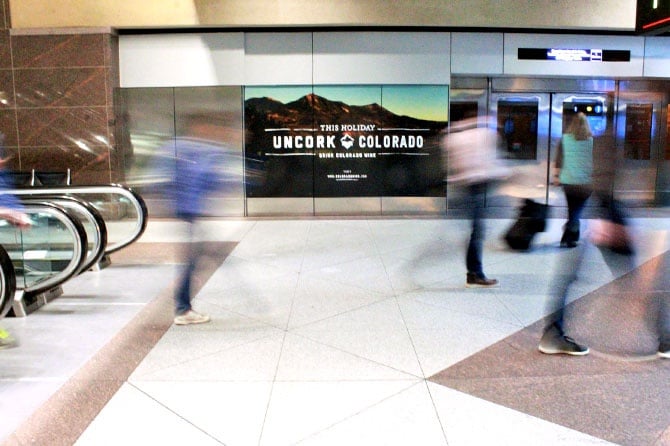 And one who enters the airport must leave (eventually), but not before thinking about what sides are needed—and yes, seasoning, too!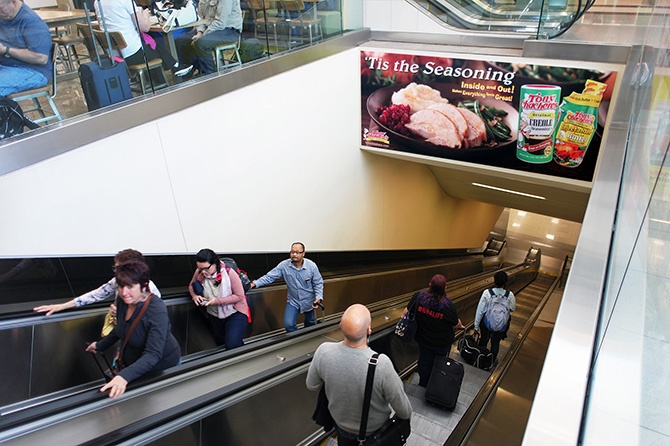 These super-sized displays provide the opportunity to showcase the art of the creative and even encourage on-site impulse buys. At San Francisco International Airport, Peloton urges passersby to GIVE THE GIFT THAT NEVER STOPS: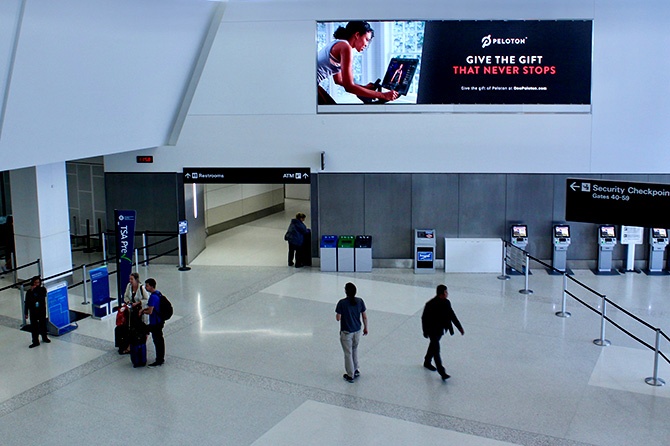 United Airlines shares: MORE ROUTES = MORE SKI RUNS at Ronald Reagan Airport: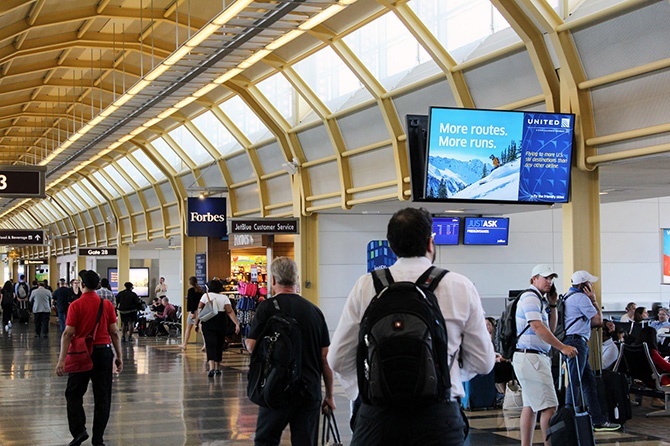 And for those who might need an escape from the family while visiting, spark the seed before they even arrive (Creed II in theaters on Thanksgiving Day!), prominently featured at Atlanta's International Airport: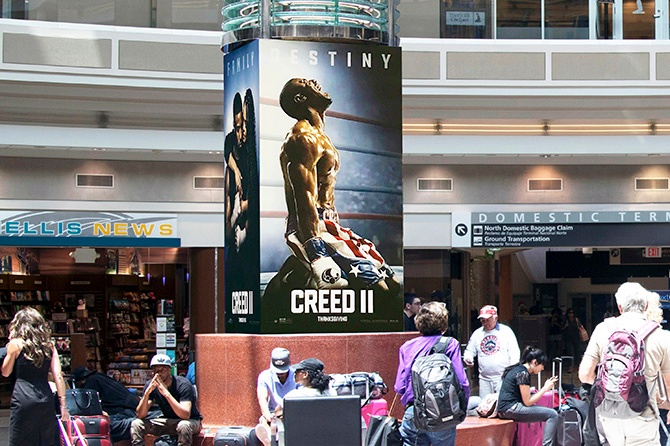 While we can't share the full spectrum of airport display offerings in just one blog post— visit Clear Channel Airports for more examples and locations, and place your campaign in front of this captive audience this holiday season!
*Sources: AAA; International Air Transport Association; Forbes

Topics: Travel & Tourism